Optify Online Shop
---
Please visit our Optify online shop to view and virtually try-on frames! Browse through our current inventory and choose frames you would like to see in person. When you arrive for your visit, our opticians will have the frames you love waiting!
Lenses
Family Eyecare of Roswell provides a wide variety of lens designs and features to suit your individual needs. Your eyewear will be customized to accommodate your lifestyle!
High Index Materials
Polycarbonate and Trivex Materials
Photochromic Lens Features
Polarized Sunglass Lenses
Anti-Reflective Coating
Computer Lenses
Custom Progressive Lenses

High Index Materials
High index materials provide lighter and thinner lenses for patients with stronger prescriptions. Theses lenses reduce lens magnification for far-sighted patients and reduce edge thickness for near-sighted patients. No more "coke-bottle" looking lenses! Because this lens choice is thin, they look great, feel great and offer built-in UV protection as well.
Our Opticians will discuss if this lens choice is right for you based on your individual needs.
Polycarbonate and Trivex Materials
Both Polycarbonate and Trivex lenses are ideal materials for lenses where the wearer needs extra durability and protection for specific activities. We recommend that one of these materials are used in eyeglasses for children under 18 years of age, sports eyewear, and safety eyeglasses (for industrial use). However, both lens materials can be used by any patient for most frames choices and prescriptions.
When comparing the two materials, Trivex is a lighter lens than polycarbonate. Trivex also has much better clarity and optics for central and peripheral vision than what polycarbonate lenses provide.
Our Opticians will discuss which lens better suits your individual needs based on your prescription power and lifestyle needs.
Photochromic Lens Features
Transitions Lenses® and Sensity® brands are available in most all lens materials.
Both brands are light-reactive lenses that will adapt to their surroundings. The lenses will darken to sunglasses outdoors and fade back to clear lenses indoors, as well as provide UV protection.
Ask our Opticians if photochromic lenses could benefit you!

Polarized Sunglass Lenses
Polarization reduces glare-causing reflections from flat surfaces, such as the hood of a car or the road's surface, as well as reflections from water, snow and the sky.
Polarized sunglass lenses are recommended for specific outdoor activities when sunlight will affect vision by causing too much glare from surface reflection. Driving, boating, bikers, golfers, skiers, and joggers are just a few that require polarized lenses for optimum safety and performance. With a few exceptions, most everyone can benefit from the clearer vision that these lenses provide.
Our Opticians will help you decide how polarized lenses could benefit you.
Anti-Reflective Coating
This lens feature is recommended for all eyeglass wearers. Anti-reflective coating reduces light reflections on eyeglass lenses, allowing 99.9% of light to reach the eye, resulting in crisp, clear vision. Although glare coatings reduce lens glare and improve vision in all lighting environments, it is especially helpful for night vision and night driving, as well as computer use. Overall, anti-reflective coatings reduce eyestrain and fatigue while protecting your lenses from scratches and your eyes from damaging UV radiation.

For anyone who is using a computer, flat-screen TV, smartphone, other devices or even uses energy efficient light bulbs in your home or work environment, you are being exposed to harmful blue light radiation that causes irreversible damage to your central vison over time. This can result in permanent damage and vision loss.

New technology and advancements in anti-reflective coatings are now able to protect your eyes from exposure to damaging blue light. Blue light radiation wave-lengths are not protected by standard UV coatings or even regular anti-reflective coatings. Recharge EX3® Anti-Reflective Coating, made by Hoya Vision, is what we recommended for this specific type of exposure.

Our Doctors and Opticians will recommend that every patient chooses an anti-reflective coating that best suits their lifestyle needs.
Computer Lenses
The more we use computers at work and at school, the more patients are needing to have occupational lenses for task-specific work. Lenses for computers can be prescribed to children as well as adults. We use both Single Vision and Computer Progressive designs, depending on what distance ranges need to be corrected. Lenses prescribed for computer use should always have Recharge EX3® Anti-Reflective Coating added to help in reducing eye strain and eye fatigue, as well as protect against damaging blue light.
Our Doctors and Opticians will help you decide if computer lenses would benefit you based on your lifestyle needs.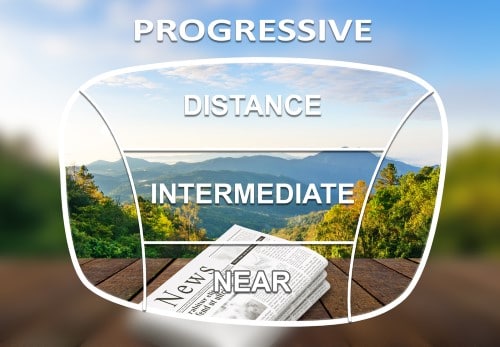 Custom Progressive Lenses
Progressive lenses are prescribed to patients who need multiple ranges of vision correction and do not want the hassle of seeing a line on their lenses. They are typically prescribed for patients who need distance, intermediate, and reading ranges, all in one lens. We provide the latest technology available in lens designs to our patients, to insure the best comfort and vision possible.